David's biography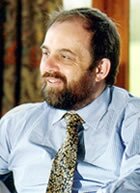 David Heath was born on 16th March 1954 in Westbury-sub-Mendip, Somerset.
He attended Millfield School and went on to study at St John's College Oxford, (MA Physiological Sciences) and the City University, London. On leaving University in 1979, he went into practice as a registered optician.
His political career began in 1985, when he was elected to Somerset County Council as a Liberal, remaining on the county council continuously until May 1997. He served as Leader of the Council from 1985 to 1989, and leader of the opposition from 1989 to 1991. In 1989 he was awarded the CBE for political service.