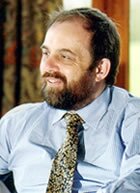 David Heath was born on 16th March 1954 in Westbury-sub-Mendip, Somerset.
He attended Millfield School and went on to study at St John's College Oxford, (MA Physiological Sciences) and the City University, London. On leaving University in 1979, he went into practice as a registered optician.
His political career began in 1985, when he was elected to Somerset County Council as a Liberal, remaining on the county council continuously until May 1997. He served as Leader of the Council from 1985 to 1989, and leader of the opposition from 1989 to 1991. In 1989 he was awarded the CBE for political service.
In 1990-91 he worked as parliamentary consultant to the World Wide Fund for Nature, and in the 1992 general election contested Somerton and Frome Constituency for the first time. He served as Chairman of Avon and Somerset Police Authority from 1993 to 1996, and Chairman of Somerset County Council's Education committee in 1996-97. He was also vice chairman of the Association of County Councils 1994-97, and was a Member of the Audit Commission 1994-97. Since July 1997, he has been a Vice-President of the Local Government Association.
At the 1997 general election, he was elected as MP for Somerton and Frome. He was the Liberal Democrat frontbench spokesman on Foreign Affairs and then spokesman for Agriculture and Rural Affairs. He was also selected as the Liberal Democrat Member of the Commons Select Committee on Foreign Affairs. He also was invited to sit on the Parliamentary Assembly of the OSCE (Organisation for Security and Co-operation in Europe).
During the 2001 – 2005 Parliament David was Liberal Democrat spokesman for Work, as part of the shadow Work & Pensions team from 2001 – 2002; spokesman for Science from 2001 – 2003; number 2 in the Home Affairs team from 2002 – 2005; spokesman for the Lord Chancellor's Department in the House of Commons (latterly known as the Department for Constitutional Affairs) from 2003 – 2005. He served on the Standards & Privileges Committee 2001 – 2005 and the Science & Technology Committee from 2001 – 2003. He was also instrumental during the last Parliament in setting up the All Party Parliamentary Group on Eye Health and Visual Impairment, serving as the chairman from inauguration.
In May 2005 David was returned to Parliament as the MP for Somerton & Frome for the third time, with an increased majority. He was then appointed Liberal Democrat Shadow Leader of the House of Commons and continued with his role as party spokesman on Constitutional Affairs. He was also appointed to the influential Modernisation Committee. When Sir Menzies Campbell was elected party leader in January 2006, David was reappointed Shadow Leader of the House, as well as Shadow Cabinet Office Minister and given a special roving brief for human rights and civil liberties. When the Cabinet was reshuffled in July 2007, David was appointed Shadow Secretary of State for Justice and Lord Chancellor. This involves shadowing Jack Straw in the new department created by PM Gordon Brown, which covers justice, legal matters, prisons and constitutional reform.
In early 2008 David resigned from his Shadow Cabinet post as he did not feel able to vote with the Liberal Democrat party whip on the European Constitution referendum. After six months on the back benches, David was invited to lead a Liberal Democrat commission on privacy in autumn 2008.
David is married and has two children; his 19-year-old daughter is at university, and his son Tom, aged 16, is about to start his A Levels. David lives in the heart of the constituency at Witham Friary between Frome and Bruton.