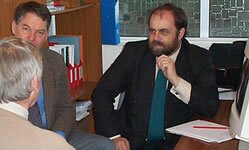 David Heath holds surgeries every week around the constituency on a regular monthly rota.
No appointment is needed and all are welcome, although you are kindly requested to contact your own MP if you do not live in the constituency. Please follow this link if you are not sure who your MP is: who is my MP?
If you would like to forward any documents, please send them to the constituency office at this address:
14 Catherine Hill, Frome, BA11 1BZ. Tel: 01373 473618
Please follow this link if you want to use the e-surgery.
David Heath's surgeries for 2009
| | | | |
| --- | --- | --- | --- |
| Place | Venue | Date | Time |
| Martock | Parish Hall | Jan 10th | 10-10.45am |
| Langport | Ridgeway Hall | Jan 10th | 11.15am-12 noon |
| Somerton | The Globe | Jan 17th | 10-10.45am |
| Castle Cary | The George | Jan 17th | 11.15am-12 noon |
| Wincanton | Community Office | Jan 23rd | 3-3.45pm |
| | | | |
| --- | --- | --- | --- |
| Place | Venue | Date | Time |
| Frome | The Library | Feb 7th | 10am-12 noon |
| Martock | Parish Hall | Feb 14th | 10-10.45am |
| Langport | Ridgeway Hall | Feb 14th | 11.15am-12 noon |
| Somerton | The Globe | Feb 21st | 10-10.45am |
| Castle Cary | The George | Feb 21st | 11.15am-12 noon |
| Bruton | Community Office | Feb 21st | 12.15am-1pm |
| | | | |
| --- | --- | --- | --- |
| Place | Venue | Date | Time |
| Frome | The Library | March 7th | 10am-12 noon |
| Martock | Parish Hall | March 14th | 10-10.45am |
| Langport | Ridgeway Hall | March 14th | 11.15am-12 noon |
| Wincanton | Community Office | March 20th | 3-3.45pm |
| Somerton | The Globe | March 21st | 10-10.45am |
| Castle Cary | The George | March 21st | 11.15am-12 noon |
| | | | |
| --- | --- | --- | --- |
| Place | Venue | Date | Time |
| Frome | The Library | April 4th | 10am-12 noon |
| Martock | Parish Hall | April 11th | 10-10.45am |
| Langport | Ridgeway Hall | April 11th | 11.15am-12 noon |
| Somerton | The Globe | April 18th | 10-10.45am |
| Castle Cary | The George | April 18th | 11.15am-12 noon |
| Bruton | Community Office | April 18th | 12.15am-1pm |
| | | | |
| --- | --- | --- | --- |
| Place | Venue | Date | Time |
| Wincanton | Community Office | May 8th | 3-3.45pm |
| Frome | The Library | May 8th | 5.30-7pm |
| Martock | Parish Hall | May 23rd | 10-10.45am |
| Langport | Ridgeway Hall | May 23rd | 11.15am-12 noon |
| Somerton | The Globe | May 30th | 10-10.45am |
| Castle Cary | The George | May 30th | 11.15am-12 noon |
| | | | |
| --- | --- | --- | --- |
| Place | Venue | Date | Time |
| Frome | The Library | June 6th | 10am-12 noon |
| Martock | Parish Hall | June 13th | 10-10.45am |
| Langport | Ridgeway Hall | June 13th | 11.15am-12 noon |
| Somerton | The Globe | June 20th | 10-10.45am |
| Castle Cary | The George | June 20th | 11.15am-12 noon |
| Bruton | Community Office | June 20th | 12.15am-1pm |
| | | | |
| --- | --- | --- | --- |
| Place | Venue | Date | Time |
| Frome | The Library | July 4th | 10am-12 noon |
| Martock | Parish Hall | July 11th | 10-10.45am |
| Langport | Ridgeway Hall | July 11th | 11.15am-12 noon |
| Wincanton | Community Office | July 17th | 3-3.45pm |
| Somerton | The Globe | July 18th | 10-10.45am |
| Castle Cary | The George | July 18th | 11.15am-12 noon |